Lumbar decompression belt – BACKRELIEF™- SCIATICA & BACK PAIN RELIEVER
In stock
A REVOLUTIONARY APPROACH IN THE PREVENTION AND TREATMENT OF LOWER BACK PAIN
Eliminate Back Pain & Stiffness With The BackRelief™ Back Support lumbar decompression belt!
You Know The PainYou Bend Over And Suddenly Feel A Sharp Sensation During Your Back, Causing Agonizing Pain, Leaving You Immobilized And Irritated. Well, That's Where The BackRelief™ Back Support Decompression Belt Comes Into Help.  This Chiropractor Approved Belt Uses an Integrated Pump That Elongates The Spine, And Reduces Lower Back Pain In Only Minutes, Leaving You Pain-Free And Ready To Take On The Day Before You!   For acute support that offers traction!  BackRelief™ Back Support Decompression Belt applies Lumbar Traction (LT), which is one method for reducing"pinched nerve" because of"lumbar disc trouble."
This decompression belt fast and easily loosens tight muscles also eliminates back pain.
The belt helps maintain your waist with each other to help stabilize and support your spine and muscles.
With this kind of support, you'll stand taller and straighter, since it will help prevent you from slouching.  This not just helps enhance your posture but also will help reduce the strain and strain on your spine. Get assistance from an aide session to get a fraction of the purchase price.
WHY DO I NEED THIS Lumbar decompression belt & BACKRELIEF™- SCIATICA & BACK PAIN RELIEVER?
A radical remedy for reducing pressure and pain on pinched nerves.
Enhances nutrient stream on the backbone for pain relief.
It aids in strengthening the back and core muscles.
Stabilize Lower Back & Improve Posture Kind of like having your Personal chiropractor.
MAIN BENEFITS
Back Pain Relief In Only Minutes: The BackRelief™ Back Support Decompression Belt has an integrated pump that enhances grip and stretches out lumbar muscles which are bearing too much weight.  This pumping enables a more even distribution of pressure in your spine muscles, effectively relieving lower back pain and anxiety!

Bending forward can cause acute back pain and muscle aches since the muscles are still working hard to maintain the spine together. By giving powerful support and stabilization to your back, the Decompression Belt helps stop this from happening.  The belt helps maintain your waist with each other to help stabilize and support your spine and muscles. With this kind of support, you'll stand taller and straighter, since it helps prevent you from slouching.  This not only can help improve your posture but in addition, helps lowers the strain and strain in your back.
Maintain Upper Body Weight away Lower Back: The Decompression Belt isn't merely a normal back support buckle.  When it's inflated, it increases in height by 4 inches (7.5 cm).  The buckle cradles the cool and the lower rib cage, it will help raise your upper body, unloading the weight off the back and also letting the muscles to relax.  In doing this, the buckle helps reduce pressure on your spine, stretches tight muscles, and decompresses the discs.  Less stress means less pain.

Optimal Spine Support: Decompressing the backbone allowing for disks to come back to regular position.
Saves Cash On Harmful Pain Killers: The BackRelief™ Back Support Decompression Belt is one of the only Organic remedies for back pain relief in the Marketplace.
As a result of this, it means that you're receiving relief and therefore are pain-free, and much more importantly prevent dangerous pain killers who are harmful to your health!
Same Treatment Utilized By Spinal Specialists: Spinal Inversion Treatment as Supplied from the BackRelief™ Belt, is Exactly the Exact Same treatment used by spinal Experts when you Reserve an appointment. Now, however, with our Belt, you can find exactly the identical treatment from the comfort of your own home, for a fraction of the purchase price.  A win-win circumstance!Simple To Use: The Belt is easy to use and requires only a couple of minutes to provide optimum relief.  It's the ideal remedy to use while walking or perhaps just sitting and relaxing in a seat whilst searching for fast relief. One Size Fits Most: It is 1 size fits most and uses a flexible Velcro that may fit 29 into 55-inch waists!
FREQUENTLY ASKED QUESTIONS
Question: Will this weaken my back muscles?
Answer: No it will not! Our belt is not made out of super stiff material that will keep your posture locked in place like a cement vest, nor is that even healthy. Our belt is an aid that helps your muscles maintain the correct posture, acting as a constant reminder to your and your muscles that keep your posture straight. Your muscles will develop and strengthen over time to maintain a healthy back and posture.
Question: What size is right for me?
Answer: With specially designed stretchable materials and straps, BackRelief™ can be adjusted to fit a wide variety of body types, men, or women.
The size of the belt fits the waist from 29 in (75 cm ) to 55 in ( 140 cm ), by using the extension included in the packet.
Please refer to our sizing chart to understand how to take the correct measurement of your waist before buying if you are unsure.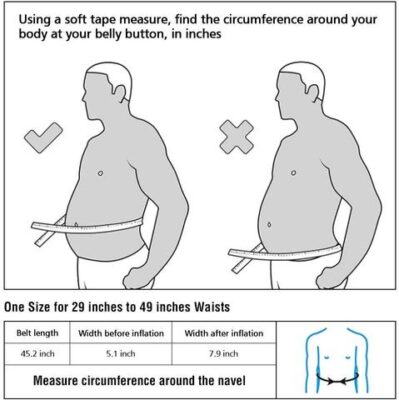 Fits a waist from 29 in (75 cm) to 55 in ( 140 cm ) by using the extension pad included in your purchase.
Question: Can women wear this too?
Answer: Yes! It's specially designed to fit around male and female physiques.
Question: How long can I wear it?
Answer: Your body will not be healed of all pain right away, so it's better to use the belt for a little while. It is recommended to follow instructions to adjust the belt to a comfortable position. Once the desired pressured is identified, it is recommended to use the belt daily for a minimum of 30 minutes a day. Stop wearing it as soon as it becomes uncomfortable; take a break and wear it again. We recommend not wearing it to sleep. Most of our customers achieve great success wearing it 2-4 hours at a time.
Question: Can I wear it under my shirt?
Answer: Yes! BackRelief™ decompression belt is designed to be sleek so that it fits undershirts or clothing, so you can be wearing it in public without people noticing. But for maximum comfort, consider wearing it over the clothing.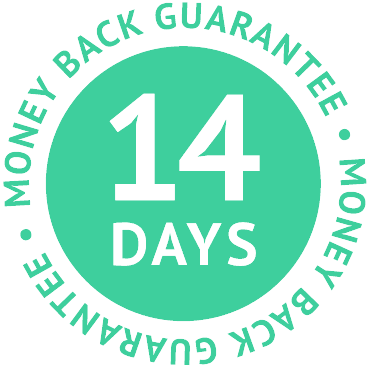 OUR GUARANTEE
We do our best to source the most unique and innovative products we can find, and to make sure that you, our customer, always has the best possible experience when shopping with us. If for some reason you don't have a positive experience with us, please let us know and we'll do whatever we can to make sure you are 100% satisfied with your purchase. Shopping online can be intimidating, but we're here to make things easy.
Note: Due to High Demand Promotional Items May Take Up to 10-15 business days For Delivery.